Time : 11 a.m.
Location : Labonté de la pomme | Orchard Apple Pick-your-own in Oka | Québec – labontedelapomme
405 rang de l'Annonciation
Oka | Québec | Canada
J0N 1E0
https://maps.app.goo.gl/Lkytgt79iyLCHKgYA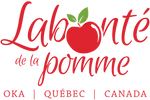 Price: $10 for those who want to pick.
To pay: See Sister Maria Mbuyi, Sister Naomi or Sister Marie-Adolphe
Registration deadline (for pick-up): Friday, September 22
Dress code: Walking shoe required
Activities :
Picking from the orchard — 1 basket of 5 pounds
Picnic and games area
Mini-farm
Hiking trails
Tractor ride
Bee watching
Menu :
Sandwich wedge:
Homemade applewood smoked ham, apple slice, Oka cheese and greens
Accompaniement :
Verrines of raw vegetables with creamy estate & maple sauce Bite of seasonal fruits & Oka cheese
Dessert :
Sweet Bites
Beverage
Bottle of water
Transportation :
Possibility of carpooling: Those who can offer transportation and those who need transportation, register on the corresponding sheet at the church.
Coming soon:
New Year's fellowship on January 1, 2024.